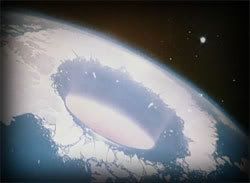 Experts of the hollow Earth theory are certain that the planet has several magnetic fields. They also say that aurora polaris is gas that oozes out through the thin earth crust on the poles of the planet. What is more, followers of the idea emphasize that compasses get absolutely mad when approaching the poles. Many researchers also add that warm winds often blow from the north which proves that large hollows may exist there.
How on earth [ha!] can a serious
article
about the hollow Earth theory NOT mention the
Hollow Earth expedition
and/or
Admiral Byrd
. Maybe they had a word limit.
Hey, it's Friday...
Via
Copyranter
2 comments:
Jetpacks said... July 27, 2007 at 1:22 PM